How We Work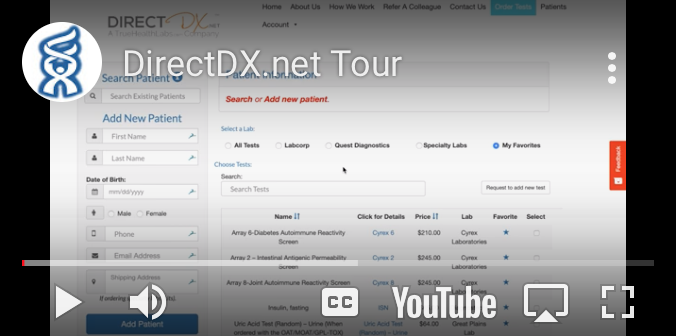 DirectDx.net is the easiest way to order cash-based laboratory tests for your patients. We partner with all the major laboratories and many specialty labs to give you fast access to testing.
Here's How DirectDx.net Works:
1: Search and select tests for your patient. Don't see a test you need? You can request it be added during ordering.
2: Print or email the requisition form to your patient. If you are ordering kits from one of our specialty lab partners, we will mail the test kit directly to your office or your patient and help them find a draw center.
3: Get the results. We will email your patient's results to you securely.
Common Questions
Q. Can we create larger custom panels for tests we run most often?
A. Yes! You can email us ([email protected]) the list of tests you would like on the panel and we will add it to the site. One test code, one click!
—
Q. When and how are we billed?
A. You are only billed for results that have been processed by the lab. Those amounts are billed on the last day of each month. 
—
Q. Are there any usage restrictions?
A. Yes. Ordering is prohibited in NY, NJ, and RI. Only clinicians who reside and are licensed in MA can use our service in MA.
—
Q. Can patients submit their testing to insurance?
A. We cannot work with insurance directly, however, you can give your patient a superbill in which they can submit for reimbursement themselves. Note that we can not guarantee any reimbursement.
—
Q. What if I receive a bill from the lab?
A. Contact us at 1-888-283-4741 or send an email to [email protected] and we will fix the issue.
—
Q. Are there any tests that cannot be collected at a patient service center?

A. Yes. Any test that requires a medical procedure must be performed in office.
—
Q. Can I add-on tests after results are sent?
A. Yes, however, you must contact us at 1-888-283-4741 in order to do so. Do not contact the lab.